Publishing House of Latgalian Culture Centre
Latgalian Culture Centre's publishing house was founded in 1990 in town Rezekne in the east of the Republic of Latvia. This area is known as Latgale and a lot of people use Latgalian language (variety of Latvian language) for communication. First books in Latgalian were published at the beginning of 19th century.
After the Second World War when Latvia was annexed by the Soviet Union it was forbidden to publish books in Latgalian language. Nevertheless people used this language at home and Catholic Church still used it in this area.
Since 1990 Latgalian Culture centre has published over 500 books in Latvian and Latgalian and a few books in Russian and English.
Jānis Elksnis has been a Director of publishing house since it has been founded in 1990.
The main priority of our Publishing House is to keep and develop the literary Latgalian language, to support the authors writing in it or about Latgale.
Annualy we release a cultural-historical year-book Tāvu zemes kalendars (Fathers' Land's Calendar) and literary almanac Olūts (The Spring) in Latgalian language.
Tāvu zemes kalendars (Fathers' Land's Calendar) is a book with a long historic background. The first year-book was published in 1938 in the city of Daugavpils (Latvia). In 1944 the calendar had record circulation - 50 thousand copies. From 1945 till 1990 it was published in Germany, since 1990 it has been published again in Latvia, in Rezekne. The biggest sections of a calendar are devoted to archeology, history, culture of Latgale, the literature, the literary criticism, and publicism.
Now Tāvu zemes kalendars (Fathers' Land's Calendar) and literary almanac Olūts (The Spring) are the only regular editions in Latgalian language. There are published only works which haven't been published anywhere earlier.
We are proud to emphasize that in last 30 years these books have become thicker in volume and the literary level of our authors has become higher. Every year we give about 200 copies of both year-books to local libraries for free.
As we are non-profit organization, for realization of our projects we take part in different culture-project competitions, organized by culture supporting funds, and we are glad to cooperate with private contributors.

Tāvu zemes kalendars in 1944 year.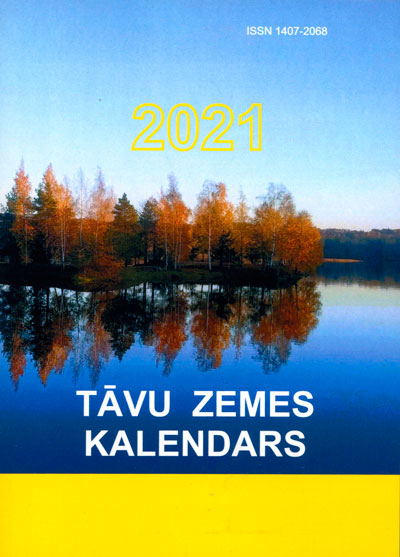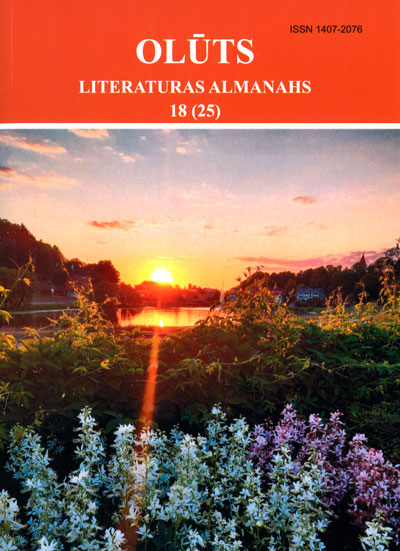 ---